PROFESSIONAL NETWORKER ON THE MARKET
OF MODERN TRADE OF THE CIS COUNTRIES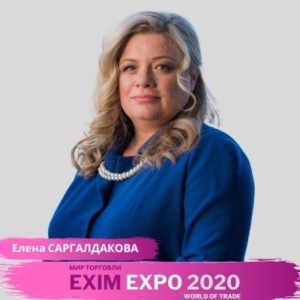 Dear Colleagues!
I greet you on behalf of the EXIM EXPO team in our unique projects under the brand "WORLD of TRADE", in which the main thing – "PARTICIPANTSCONTRACTS SIGNING!"
For 7 years, together with you, we have created a bright galaxy of business events that have received recognition in different countries of the world, we immensely appreciate your trust for many years of cooperation and support!
2020 was an unusual year for all of us, but it allowed to create new projects, as powerful and effective as we have been implementing with you for many years.
During these years we have been supported and continue to be supported by our partners – Chambers of Commerce and Industry, government and international organizations, leading world companies, industry associations, with which we have jointly carried out dozens of projects, not all of them we published on the site.
In 2021, we can proudly tell about them and invite new partners for cooperation – organizers of business delegations, whose tasks include supporting and developing exports, international trade relations and the business of every commercial unit.
On our website you will definitely find a solution that will allow you to solve your problems, and we will fully take part in this. Are you looking for something else? Write to us and we will offer the most effective concept especially for you!
Only in our projects real deals of the best companies take place, business agreements with the authorities are concluded, new opportunities open up for every participant.
We wish you successful negotiations, long-term contracts, reliable partners as a result of participation in our projects!
Subscribe to our news and be among the first to register!
Elena Sargaldakova
Founder of World Trade projects
You can download the presentation of projects
here
.